South American giants Argentina and Chile clashed on Thursday with Lionel Messi helping his country get victory.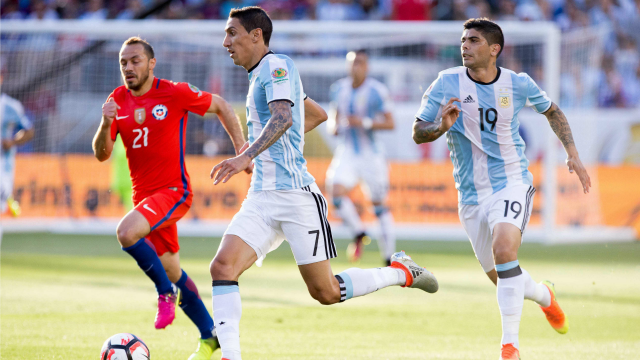 The win ensures that the Copa America finalists remain in the race for Russia 2018.
The 2014 World Cup finalists have had a bad recent history but they seem keen on making it to the forthcoming World Cup next year. They currently place third with 22 points. They are eight points off leaders Brazil but they are just one point away from second place Uruguay. Brazil defeated Uruguay 4-1.
Five-time Ballon d'Or winner Messi scored through a penalty kick, beating City keeper Claudio Bravo.
Fuenzalida had pushed PSG forward Angel Di Maria before the referee Sandro Ricci pointed to the spot. The game was a tense one – due to the stakes involved – and the pitch was below par.

Chile badly wanted to draw the game. In all honesty, they deserved it. Arsenal playmaker Alexis Sanchez could have equalized but his attempt was denied by the post. He sent in a brilliant ball from a free kick but it hit the post. The keeper had to respond immediately They had sent the ball to the back of the net early in the game but the referee ruled it offside.
Argentina coach Edgardo Bauza confessed that the team "lost the ball" a lot but he was happy that they got the result they wanted. The Copa America champions are now in sixth place – due to goal difference.
Columbia defeated Bolivia 1-0 so they move to fourth place – one point ahead of Ecuador. Ecuador were defeated 2-1 by Paraguay. The results of this round make the qualification more competitive, meaning the next rounds are going to something else as teams scramble for qualification.